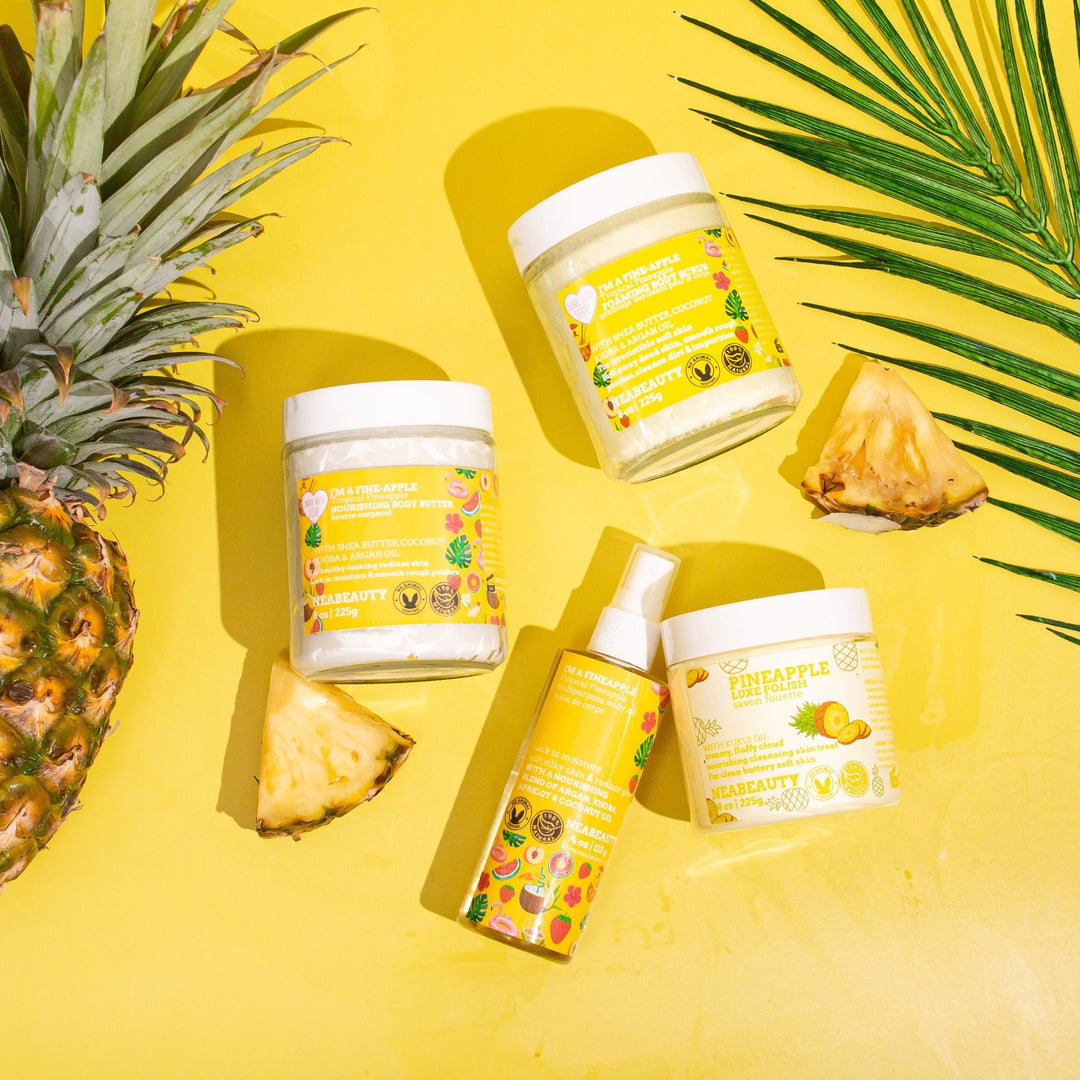 I'm A Fine-Apple Selfcare Trio
Free Shipping in Canada & US over $100
This self-care body bundle will have your skin deeply cleanse, moisturized and glowing in 3 easy steps. TLC for your skin & treats to have a luxurious, fun spa experience in the comforts of your home! 
Scent: Fresh sweet, lingering pineapple! 

BODY PAMPERING 101
This ultimate body pampering trio work hand in hand to:⠀⠀⠀⠀⠀⠀⠀⠀⠀
Unclog pores allowing your Neabeauty body butters, oils and other moisturizing products to penetrate into your skin for long lasting moisture.⠀⠀⠀⠀⠀⠀⠀⠀⠀
Cleanse dirt and sweat leaving your soft and clean.⠀⠀⠀⠀⠀⠀⠀⠀⠀⠀⠀
Buff away dead skin buildup to help diminish keratosis pilaris (strawberry legs).⠀⠀⠀⠀⠀⠀⠀⠀⠀
Moisturizes and soothes dry, itchy skin.⠀⠀⠀⠀⠀⠀⠀⠀⠀⠀⠀⠀⠀⠀⠀⠀⠀⠀
Nourishes your skin with vitamins and antioxidants to make you glow all day long!⠀⠀⠀⠀⠀⠀⠀⠀⠀⠀⠀⠀⠀⠀
Anti-inflammatory properties: reduces redness, irritation and inflammation.⠀⠀⠀⠀⠀⠀⠀⠀⠀⠀⠀⠀⠀⠀⠀⠀
100% Natural, Vegan & cruelty-free.⠀⠀⠀⠀⠀⠀⠀⠀⠀
Free of Parabens, Sulfates, & Phthalates.⠀⠀⠀
(8 oz) Foaming Sugar Scrub
(8 oz)  Body Mousse 
(4 oz) Body Oil 
HOW TO USE
Step 1: Body Scrub
Get naked & Get wet !
Massage a handful in circular motions into your skin, focusing on dry & rough areas. 
Use a loofah or washcloth for further exfoliation and to make it extra creamy and foamy.
Rinse ! 
Step 2: Body Butter
On damp skin, scoop a small amount of butter & massage into your skin. Little goes a long way!
Step 3: Body Oil
Apply a few drops of your moisture locking body on damp skin.
INGREDIENTS
BODY SCRUB
Organic Sugar, Butyrospermum parkii ( shea butter), Cocos Nucifera (

organic coconut oil), Simmondsia Chinensis (jojoba oil), 

aqua, glycerin, sorbitol, sodium laurayl isethionate, Tocopherol ( 

vitamin E oil), disodium laurel sulfosuccinate, sodium 

chloride, phenoxyethanol, tetresodium EDTA, kosher & vegan fragrance 

oil, eco mica, argan oil (Argania spinosa kernel oil), Vitis Vinifera (Grape) Seed Oil, Persea Gratissima (Avocado) Oil.
BODY BUTTER
Butyrospermum parkii (shea butter), Cocos nucifera (organic coconut oil), Simmondsia Chinensis (jojoba oil), Persea Gratissima (Avocado) Oil, Vitis vinifera (Grape) Seed Oil, Argania Spinosa Kernel Oil (argan oil), Tocopherol (vitamin E) oil, vegan & kosher certified fragrance oil ( Paraben & Phthalate Free) , eco mica, Phenoxyethanol, sorbic acid, and caprylyl glycol.
BODY OIL
Jojoba: Natural conditioner for dry & irritated skin.

Argan: Plump and smooth your skin.

Apricot: Maintain softness and radiance of your skin.

Coconut: Super moisturizing ! Provide a major boost of hydration to your skin.

Organic, vegan, and cruelty-free

4 fl oz 120ml